Hexagonal Black Glass Rose Gold Exquisite Side Table
B0016335A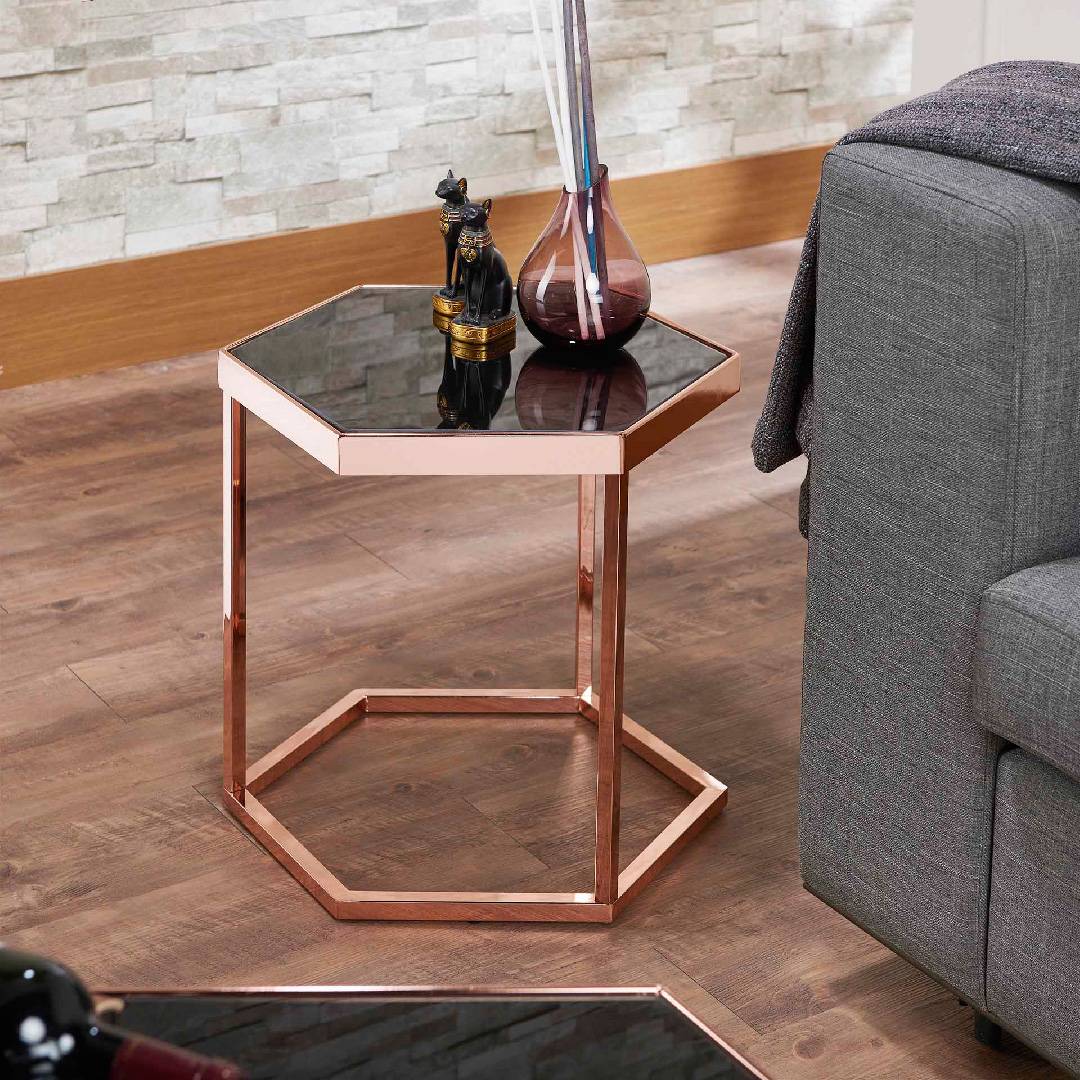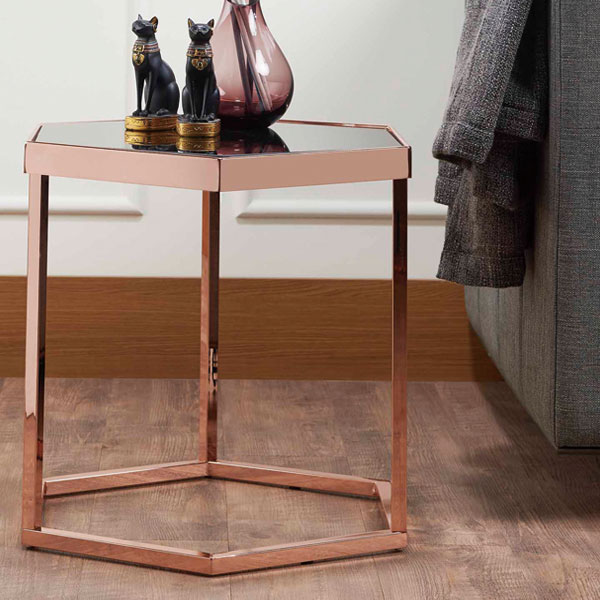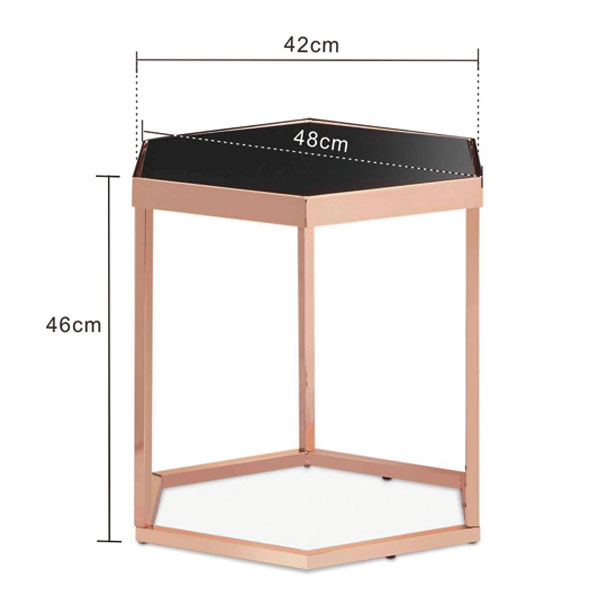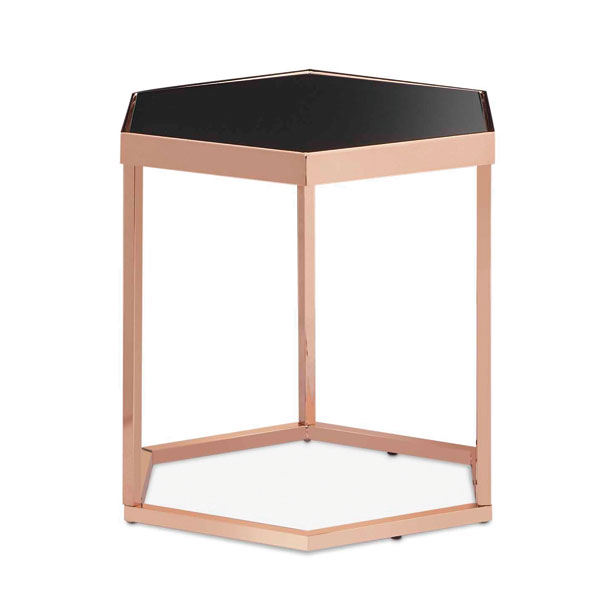 Rose color side table.
Side Table, 48 cm wide x 42 cm deep x 46 cm high.
It is relatively shape in market. Table is rose metal color, smooth surface and reflective to create extravagant and luxurious texture. Three support points design with in hexagonal shape glass table, this design improves the lightness of the product and air permeability. Does not reduce the stability of its use, but let the product in different angles have different visual presentation. This side of the table is characterized by exquisite degree, in the process of excellence, so that the table and the glass between the desktop completely seamless, from top to bottom will not see the floor to create a sense of forming.
Product Use
This product can also combine with the Slicethinner coffee table A0016935A, the same series of design increases the interior visual effect consistently.
Specification
Overall Dimensions (inch): 18.9 inches wide x 16.5 inches deep x 18.1 inches high
Overall Dimensions (cm): 48 cm wide x 42 cm deep x 46 cm high
Product Weight: 4 kg
Box Weight: 4.6 kg
Box Dimensions(cm): 98.3 cm wide x 83.5 cm deep x 10.6 cm high
Shelf Number: 0
Overall Product Weight: 12.8kg
Tone of Color: Expresso
Style: Coffee Table, Display Show Case, Livingroom Desk
Material: MDF, Metal, Veneer, Wood
Assembly: Assembly Required by two adults
Product Feature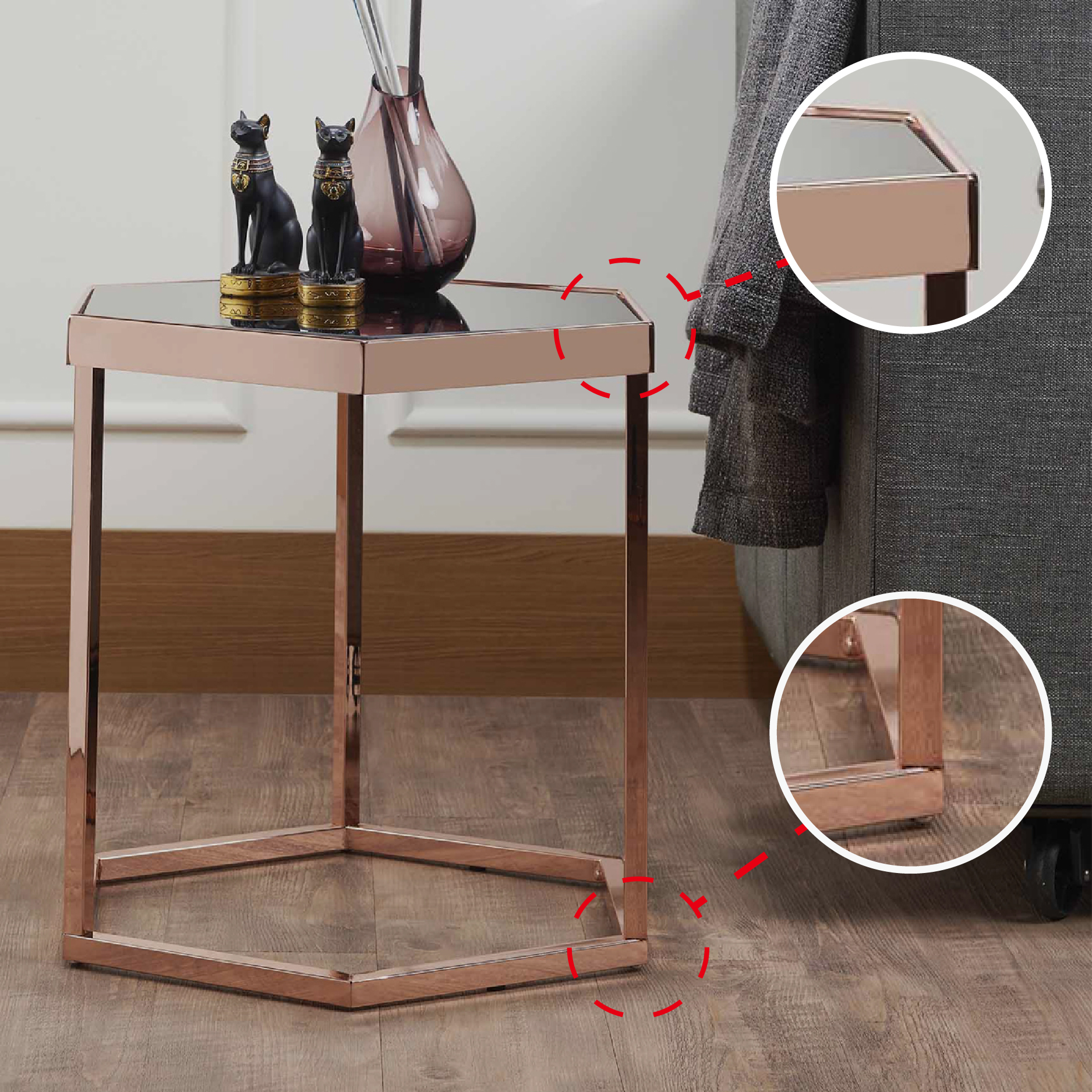 The gorgeous hexagonal glass and metal tabletop is a luxurious quality.
3-points leg posts is a steady application.
The process of excellence, so that the combination of desktop and desktop seamless.
Black glass with rose metal table, to create a luxurious sense of luxury.
Hexagonal special shape, instantly enhance the unique and texture of space.
He overall design will not bring people bulky feeling, but a kind of light feeling.
Black glass with explosion-proof features, can feel at ease to use.
Product Wood Skins
Slicethinner works with professional skinning factory to provide customers with various skin stickers. There are mainly several kinds of skin stickers. In addition, you can ask other special color boards.
Welcome to "Wood Grain Patch Skin" for more options.
Welcome To Contact Us
We are looking for agents who are interested in us throughout the world. Welcome to contact us.
Besides, Slicethinner provides the most preferential price for clients to purchase our products and accept small order. If you're interested to our products, please feel free contact us. We're willing to provide the perfect and professional service to cooperate with you.
Related Products

---

Files Download

---
Press Release
Why should you choose Slicethinner as your furniture manufacturing ?

Slicethinner is one of the biggest furniture manufacturing in Taiwan, specially engaged in knock-down furniture, such as hot selling coffee table, side table and night stand, chest of drawers,...

Read More

DIY furniture industrial leader in design and manufacturing for home furniture sector.

We not only provide affordable high quality furniture transport in UK, but also around European countries. Not only meet the need for B2B and B2C transport; we also provide product handling,...

Read More

Youtube Assembly Instructions

No more worry about how manual work or do not understand how it say on it picture, let see our video example show you step by step let you have other way to look at DIY furniture. Let you project...

Read More