Black Textured Storage Cabinets
I0003301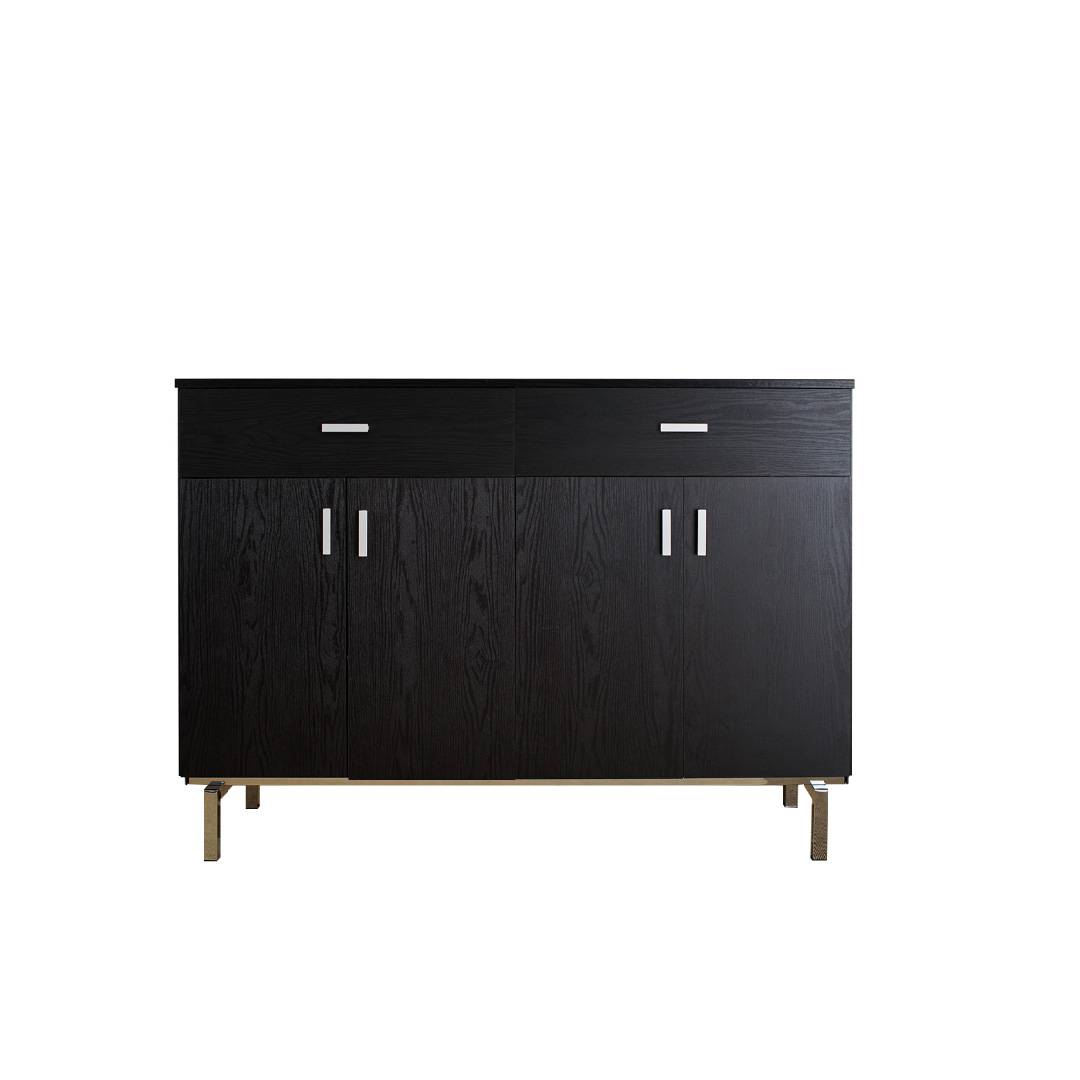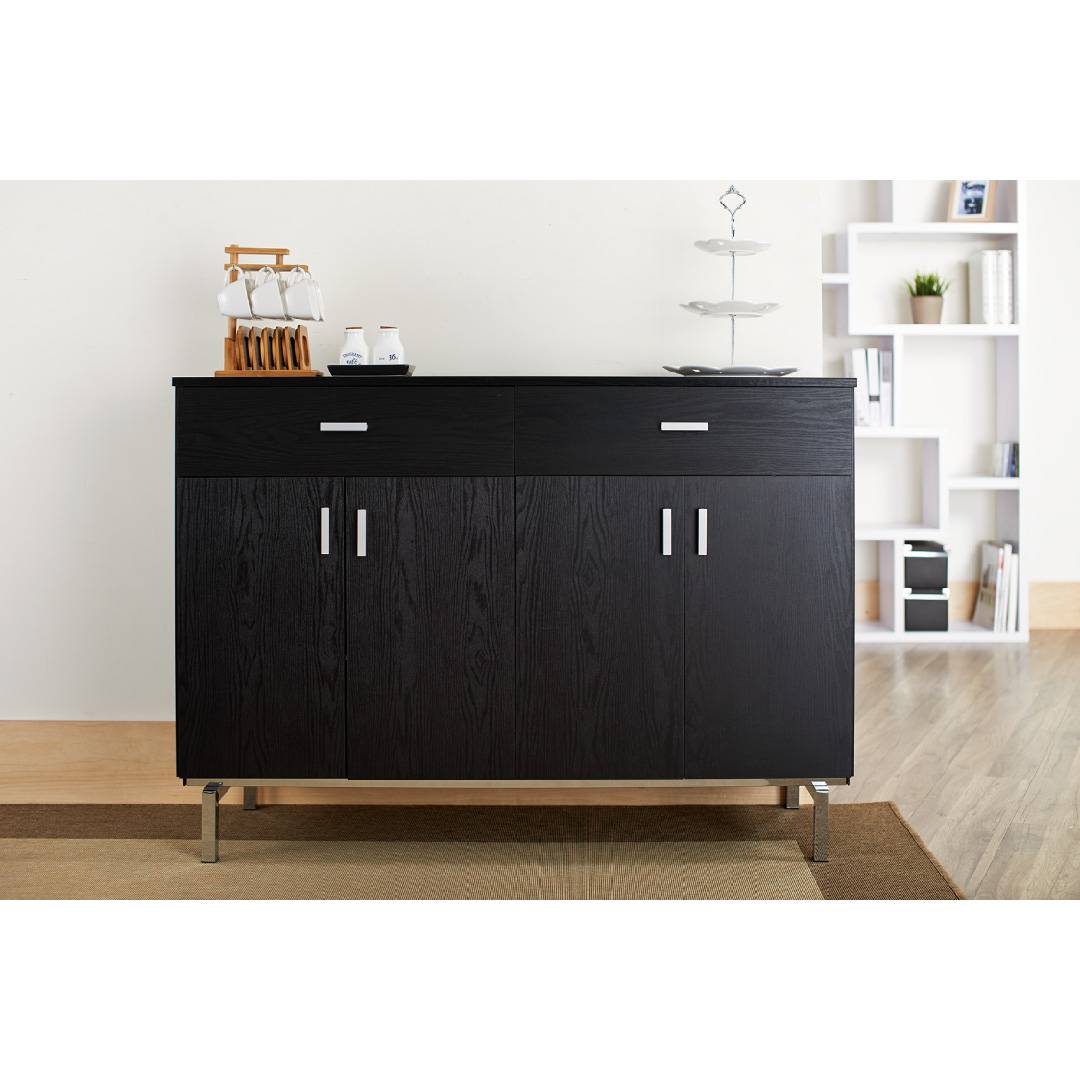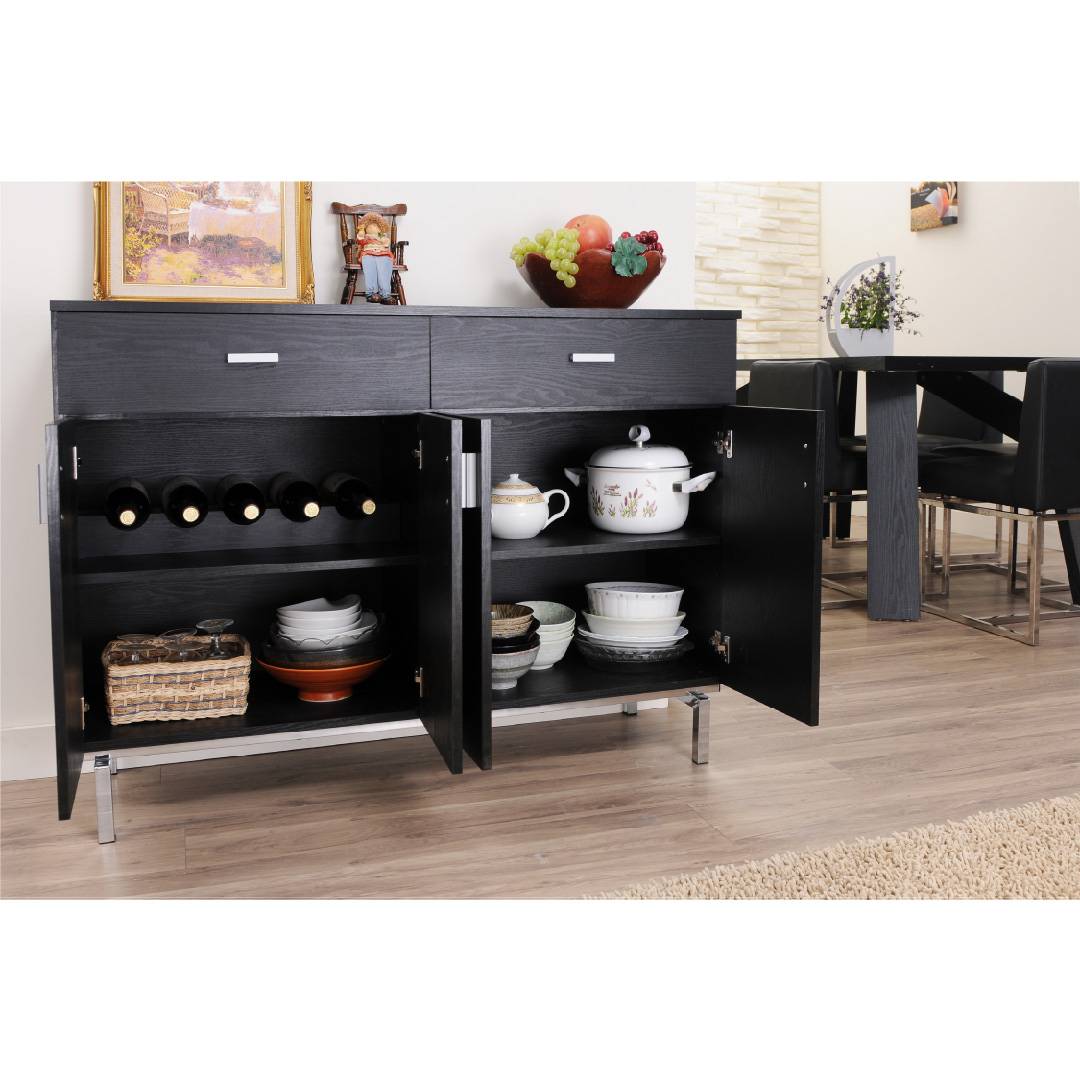 Metal hand handle corner seat locker.
The size of the locker is long 120 cm* wide 40 cm* high 86.6 cm, the upper layer of the cupboard can be a drawer is storage space, the following is two two-door storage, which is divided into the upper and lower layers, one side of the above is the wine rack, can be placed wine, in the appearance of the part of the use of metal hand to do embellishment , but also make the whole cabinet more eye-catching.

Metal corner seat will be the overall improvement of the locker, increase the flow of light and air feeling; black wood grain patch using high-pressure laminate technology, not only let the wood grain in the visual presentation, more can be realized with touch.

This product is quite suitable for placement in the kitchen, can be different sizes of pots and pans classification placement, but also can collect wine!
Product Use
Specification
Overall Dimensions (inch) : 47.24 in wide * 15.75 in deep * 34.09 in high
Overall Dimensions (cm) : 120.0 cm wide * 40.0 cm deep * 86.6 cm high
Box Dimensions (inch) : 58.07 in length * 20.67 in wide * 7.48 in high
Box Dimensions (cm) : 147.5 cm length * 52.5 cm wide * 19.0 cm high
Product Weight (kg) : 47.0 kgs
Box Product Weight (kg) : 51.8 kgs
Tone of Color : Black Oak
Material : PB , Paper Laminate , Metal
Assembly Requirements : Two Adults
Product Feature
Suitable for placement in the kitchen, storage pots and pans and so on.
Good location for wine collection.
Clever use of metal materials in the hand and angle, so that the whole is more attractive.
Product Wood Skins
Slicethinner works with professional skinning factory to provide customers with various skin stickers. There are mainly several kinds of skin stickers. In addition, you can ask other special color boards.
Welcome to "Wood Grain Patch Skin" or "Skin And Color" for more options.
Welcome To Contact Us
We are looking for agents who are interested in us throughout the world. Welcome to contact us.
Besides, Slicethinner provides the most preferential price for clients to purchase our products and accept small order. If you're interested to our products, please feel free contact us. We're willing to provide the perfect and professional service to cooperate with you.
Files Download

---
Press Release
Why should you choose Slicethinner as your furniture manufacturing ?

Slicethinner is one of the biggest furniture manufacturing in Taiwan, specially engaged in knock-down furniture, such as hot selling coffee table, side table and night stand, chest of drawers,...

Read More

DIY furniture industrial leader in design and manufacturing for home furniture sector.

We not only provide affordable high quality furniture transport in UK, but also around European countries. Not only meet the need for B2B and B2C transport; we also provide product handling,...

Read More

Youtube Assembly Instructions

No more worry about how manual work or do not understand how it say on it picture, let see our video example show you step by step let you have other way to look at DIY furniture. Let you project...

Read More